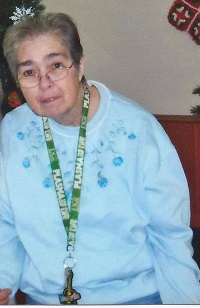 Pansy Saling, 68, of Bowling Green passed away at 1:12 AM Tuesday Aug. 8, 2017 at Magnolia Village in Bowling Green.
The Edmonson County native was a homemaker. She was a daughter of the late Samuel Saling and Angie Evelyn Vincent Saling. She was preceded in death by a son, Charlie McGrew; and a sister, Patsy Childers.
Funeral will be at 2:00 PM Saturday at Vincent Church, where she was a member, with burial to follow in Doyle Cemetery. Visitation will be 4-8 PM Thursday at Gravil Funeral Home and after 11:00 AM Friday at the church.
Surviving are a son, Sherman McGrew (Angela) of Bowling Green; two brothers, Alex Saling (Sandy) of Bee Spring and Roger Saling (Darnell) of Sunfish; eight grandchildren, William Garrison, Brittany Creek, Kayla Miller, Bethany Helson, Shane Dunning, Carlie McGrew, Erica McGrew and Candace McGrew; and five great grandchildren.