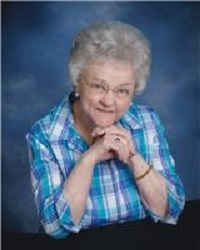 Laverta Vincent, age 87 of Leitchfield, passed away Monday, August 21st 2017 at her home, surrounded by her children. From her birth at home in Bee Spring, Kentucky on September 17th 1929 until her passing, she nurtured people around her with love and an incredible faith in God. She was born to Jack & Maggie Carroll-Meredith, and was the youngest of eight children. Laverta married Billy, her high school sweetheart, on July 3rd 1951. Throughout her life, Laverta was first, a devoted follower of God, as well as a precious wife, loving mother, and a faithful servant in her church.
She is survived by her three children, Liz Ashby (Richard), Granvil Vincent (Sherry), & Jacob Vincent (Lee Ann). She also leaves behind nine grandchildren, three great grandchildren, one sister, Aileen Thomas, and one brother, Jerry Meredith.
Other than her parents, she was preceded in death by her husband G.W. "Bill" Vincent, one daughter, Carol Skaggs, three sisters, Nina, Alta, & Carlene, and two brothers, Bill & Willard.
Funeral services will be held at 11:00 a.m., Friday (August 25th) at the Clarkson Baptist Church with Rev. John Whittaker officiating. Burial will follow at the Bee Spring Cemetery. Visitation will be held from 3:00 p.m. until 8:00 p.m., Thursday and from 9:00 a.m. until service time at the church.