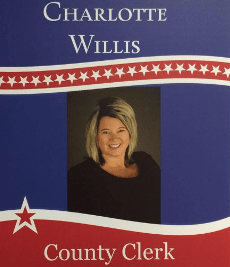 A lifelong resident of Grayson County, Charlotte Willis wishes to announce that she has filed her letter of intent to seek the office of Grayson County Clerk as a Republican candidate in the May 2018 Primary Election.
Willis began working as a deputy clerk for retired Clerk Margaret Woosley in February 1995. She also worked under former Clerk Carletta Farris, and currently works under retiring Clerk Sherry Weedman.
Willis said she has had the privilege of serving the people and community with honesty and integrity as a deputy clerk.
With the County Clerk having over 200 duties, Willis said her 22 years of experience makes her understand the importance  of knowing, staying up to date, and following all rules, regulations, and statues.
The daughter of Carlos and Carol Croghan, she has been married to her husband Stacy Willis, the son of Anna Willis and the late Randall Willis, for 19 years. They have three children Kenleigh, Parker and Ella-Grace.
Willis said she looks forward to meeting as many citizens of Grayson County as possible during her campaign and that she is ready to hear the thoughts and suggestions of citizens, and to ask for the public's help electing her the next Grayson County County Clerk.