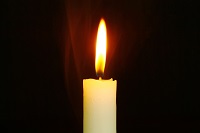 Hazel Ruth (Logsdon) Skaggs, age 83, of Big Clifty, KY passed away Sunday, November 12, 2017 at her residence.
She was born in Grayson County, KY on March 20, 1934, daughter of Felix and Allie Meredith Logsdon and was married to James Hancil Skaggs.
She was a Housewife and member of Little Flock Baptist Church. In her spare time she enjoyed sewing and gardening.
Mrs. Skaggs is survived by three daughters; Judith Faye Sciarra (Edward), Brenda Kay Risinger (James) and Lavina Sue West.
Other survivors include two sisters; Lillian Smith and Rose Roland, thirteen Grandchildren and sixteen Great-grandchildren.
She was preceded in death by her Parents, Husband, one son; James Felix Skaggs and one daughter; Theresa Gammom.
Visitation: Friends may call at Rogers-Oller Funeral Home from 3 – 8 PM CST on Wednesday, November 15 and after 9AM Thursday.
Funeral service: 11AM CST on Thursday, November 16, 2017 at Rogers-Oller Funeral Home.
Burial: Little Flock Cemetery