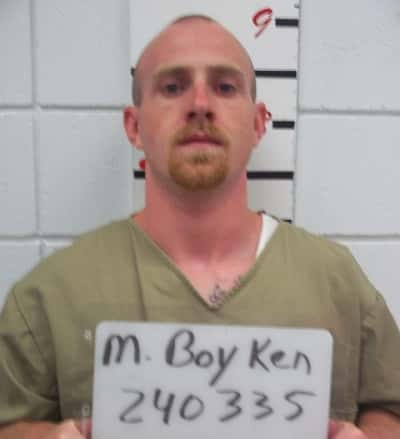 Kentucky State Police has charged a third person in the ongoing Tromain Mackall murder investigation.
On Wednesday, police charged 29-year-old Marcus Branden Boyken, of Greenville, with tampering with physical evidence. Police said Boyken is currently incarcerated at the Kentucky State Reformatory in La Grange on unrelated charges.
Authorities did not offer details as to Boyken's role in Mackall's slaying. Boyken, though, served nearly two-and-a-half years in prison for trafficking in methamphetamine, possession of a controlled substance, possession of a firearm by a convicted felon, and tampering with physical evidence. He was convicted of those charges in April 2013 and was paroled on September 1, 2015.
Last week, Kentucky State Police made a second arrest in Mackall's July 2016 murder, as police arrested 33-year-old Christopher S. Hill, of Owensboro, and charged him with murder, kidnapping and tampering with physical evidence.
Those arrests came after Kentucky State Police arrested 48-year-old William E. Howard Jr., of Falls of Rough, in March and charged him with murder, kidnapping and tampering with physical evidence.
Mackall, who moved to Ohio County from Maryland a short time before he was killed, was found in a large tool box in Spring Fork Creek, near Short Creek, on August 2, 2016. He was reported missing on July 24, 2016 after he failed to show up for work.
Mackall, 29, was seen alive for the last time leaving a Daviess County party on foot. At that party, he became involved in a verbal and physical dispute with several people. The Navy veteran was strangled, bound and placed in the toolbox, which was then put in the creek.
Howard and Hill are being held in the Daviess County Detention Center, with Boyken remaining in the Kentucky State Reformatory.
By Ken Howlett, News Director
Contact Ken at ken@k105.com or 270-259-6000