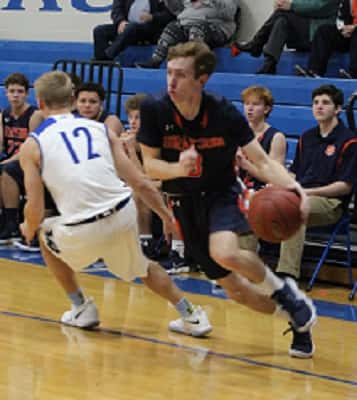 Playing in the opening round of the Magnolia Bank Classic against the host LaRue County Hawks Thursday evening, the Cougars knew they would be facing a hostile crowd of Hawk fans, but they also found themselves battling an 8-1 team that had five players, three of them starters, who stood 6-foot-4 or better.
With the Cougars' biggest player being 6-foot-2 junior Logan Majors, they found themselves battling a significant size differential and they were never able to find a way to overcome the difference in a 66-42 blowout loss.
The Hawks were led in scoring by 6-foot-4 junior forward, Dailliss Cox with a game-high 18 points. Their 6-foot-6 center, sophomore Mark Goode, was the biggest factor in the game, though, as he recorded a double-double with 17 points and 10 rebounds. Unofficially, the Hawks dominated the boards against the Cougars, 32-20.
Grayson County trailed by just three points, 6-3 at the 4:44 mark of the first quarter, but the Hawks closed out the period on a 12-4 run to grab an 11-point lead, 18-7 as the teams headed into the second quarter. The Cougars played the rest of the first half evenly and went into the halftime locker room still trailing by 11, 30-19.
The Hawks then pretty much put the game out of the Cougars' reach by opening the third quarter with a 14-4 run that saw them take a commanding 21-point lead, 44-23 with 2:47 left in the period. Grayson County closed out the period by outscoring the Hawks 7-1, but they still trailed by 15 points, 45-30 at the start of the fourth quarter.
When junior Anthony Adkins hit two free throws with 2:04 remaining to be played, the Hawks held their largest lead of the night, 27 points at 64-37.
Senior Bailey Logsdon led the Cougars with 15 points and was named the Cougars' Player of the Game. Three players, junior Logan Majors, sophomore Nolan Shartzer, and sophomore Cameron Wells all finished with six points. Majors also had five rebounds to lead the team.
Junior Caleb Ray and sophomore Wyatt Schultz both had three points, while Miles Hornbeck added two and J. J. Tomes had one to complete the scoring.
The round-robin tournament continues this evening at 5 p.m. central time when the Cougars (5-6) will face Livingston Central (8-5), 63-59 winners over Cumberland County in their first contest on Thursday. The Cougars will close out their holiday schedule on Saturday, again at 5 p.m. central time, against Cumberland County (3-9).
By Don Brown, Local Sports
Reach Don at donbrown@k105.com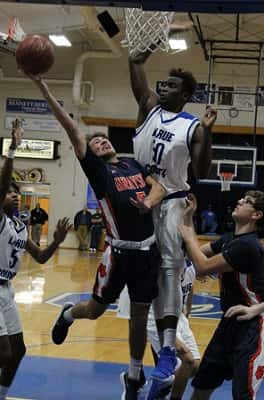 Senior Bailey Logsdon found his path to
the basket impeded by 6-foot-8
sophomore Branco Balingate.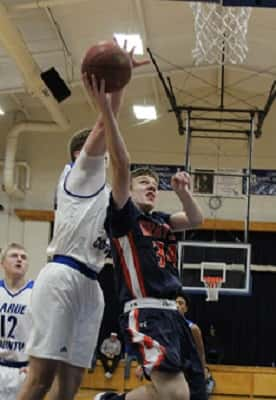 LaRue County's 6-foot-6 center, Mark Goode,
rejected Josh Embry's lay-up attempt.