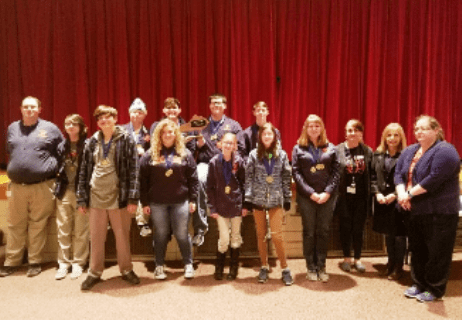 Congratulations to the Grayson County High School Academic Team for its excellent performance at the KAAC Governor's Cup District competition on Saturday, January 27.
The team beat McLean County, Ohio County and Edmonson County to take first place in Quick Recall, and first overall in total points.
The GCHS Future Problem Solving team placed first in its competition, with members Amanda Fulp, Sarah Kiper; the FPS team is coached by Ellen Thomas.
In English composition, Taeja Parsons placed third and Holly Lykins fourth, both will advance to regional competition. In Mathematics, Johnny Loughran placed fourth; in Science, Cesselly Gibson placed fourth; in Social Studies, Hunter Meredith placed first and Nathan Shelton came in second.
In Language Arts, Alex Dennis came in first place with Nathan Shelton coming in third. In Arts and Humanities, Alex Dennis placed first, Hunter Meredith, third, and Cesselly Gibson came in fifth.
Congratulations to all students advancing to the regional competition in February!
The GCHS academic team is coached by head coach Sharon Sloan, and her assistant coaches Erina Duvall, Priscilla Gordeuk, and Bill Newsome.
(Photo of GCHS Quick Recall Team—Pictured from left to right: Back row- Coach Bill Newsome, Dustin Hayden, Hunter Meredith, Nathan Shelton, Alex Dennis, Johnny Loughran, Coach Erina Duvall, and Head Coach Sharon Sloan. Front row- Dakota Boaz, Holly Lykins, Sarah Kiper, Amanda Fulp, Cesselly Gibson, and Coach Priscilla Gordeuk.)
By Grayson County Schools