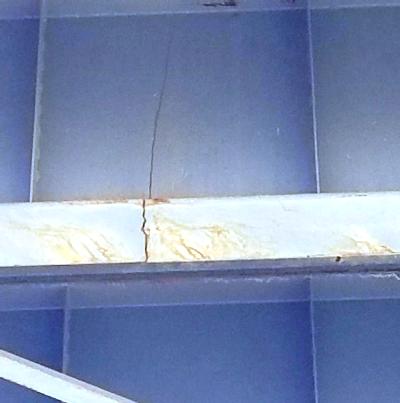 The Kentucky Transportation Cabinet has announced that due to an inspection, the Eveleigh Bridge will be closed for part of Tuesday.
As engineers finalize repair plans for the Eveleigh Bridge on Hwy 259 north, at the Grayson/Breckinridge County line, crews will be conducting another inspection on Tuesday, requiring closure of the bridge, according to cabinet spokesman Chris Jessie.
No traffic will be allowed to pass over the bridge between 8 a.m. and 2 p.m. Normally, these inspections would occur under a lane closure, but with one lane already closed, the inspection will require full closure.
"While the initial inspection last week was focused on a specific beam, a more detailed analysis of the entire structure will take place … so that any additional issues can be addressed under the same project contract," Jessie said. "This is a common practice with repairs of this nature."
Motorists should use Hwy 737 (Lilac Road) as a detour during the closure.
It is possible the inspection will be complete before 2 p.m., and traffic will be allowed to resume alternating one-way passage over the bridge as soon as engineers complete the inspection.
(Photo of crack on underside of Eveleigh Bridge courtesy of anonymous source)
By Ken Howlett, News Director
Contact Ken at ken@k105.com or 270-259-6000