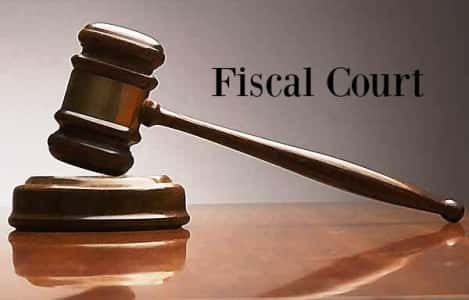 At Tuesday afternoon's Grayson Count Fiscal Court meeting, a scheduled of recommended secondary road resurfacing projects were presented to Magistrates.
The Rural Secondary Road Program representative offered four resurfacing projects equaling over 10 miles at cost of $1.45 million.
The locations recommended and approved by Magistrates are as follows:
Corn Hill Road (Hwy 736) at mile point 5.013 to mile point 7.200, a distance of 2.187 miles.
Hebron Road/Floyd Clark Road at mile point 0.0 to Hwy 62, a distance of 5.843 miles.
Hwy 1133 at mile point 6.670 to mile point 6.850, a distance of .180 miles.
Mulberry Flats Road (Hwy 2191) from mile point 1.245 to Salt River Road (Hwy 920), a distance of 1.056 miles.
Occupation tax distribution percentages changed
With Judge-Executive Kevin Henderson telling Fiscal Court, "All you Magistrates know the roads are falling apart," Magistrates voted to change the distribution of the occupation tax dollars from 65 percent to the General Fund and 35 percent to the Road Fund, to 65 percent for the Road Fund and 35 percent to the General Fund.
Henderson added that the General Fund account has $350,000 more than this time last year, due to the cuts made since Henderson took office in late August.
Sheriff's Office to receive excess fees
Grayson County Sheriff Norman Chaffins petitioned Fiscal Court to have the $57,523 his office collected in excess fees be "contributed back to the sheriff's office."
On a yearly basis, the sheriff's office isn't able to purchase equipment until December because officials don't know the amount of taxes the office will collect, Sheriff Chaffins said.
The $57,523 in excess fees could help the sheriff's office with much-needed purchases, including new bullet proof vests. According to Sheriff Chaffins, some deputies are wearing expired vests. He added that another need were additional tasers for his deputies, as he noted that the GCSO has taser trained deputies who don't have tasers to carry.
County Treasurer Angel Hayes said, according to state statute, the county cannot write a check to the sheriff's office for the amount of the excess fees, but when the SO desires to make a purchase with the excess fees monies, the county is allowed to write a check to cover the expense.
Magistrates unanimously voted to approve the move.
By Ken Howlett, News Director
Contact Ken at ken@k105.com or 270-259-6000