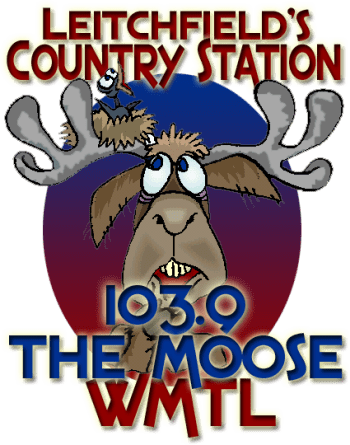 If you've taken a trip across the radio dial in the last couple of weeks, you may have found a new spot to land that sounds both familiar and out of place all at the same time.
Earlier this month, Heritage Media Of Kentucky, Inc (parent company of K105.com) put "Leitchfield's Country Station 103.9 The Moose" on the air. The FM signal is actually a translator for WMTL-AM, meaning that the same programming previously heard at 870 on the AM Dial is now available on the FM band.  This enables WMTL to broadcast 24 hours a day and better serve the community.
"In January, WMTL will celebrate it's 60th anniversary of broadcasting in Leitchfield," said company President/CEO Mark Buckles, "and we're thrilled we can finally add an FM signal to better serve our listeners."
WMTL began broadcasting in January 1959 at 1560AM before later moving to a better dial position at 870AM but only had regulatory authority to operate sunup to sundown. As part of the FCC's AM Revitalization efforts, some AM license holders have been permitted to establish FM signals as a supplement to their sister AM signals.
"What you're hearing now at 103.9 is exactly what has been airing on WMTL for a long time" said Buckles.  "We sometimes refer to it as 'Country K105.' It's the same great local content with country music wrapped around it instead of pop."
The station has local newscasts at 6, 7 and 8am as a lead-up to what listeners once knew as Tradio, but in a new format is called "Shop Local Leitchfield" at 8am. That is followed by long time hit show "In The Know" at 9, followed by Kentucky Sports Radio With Matt Jones until 12pm. After KSR, Local News at Noon then a musical format that programmers label 'Country Today.'
"Country Today is exactly what it implies," said Buckles.  "The very latest hits from Nashville and then we add in the biggest hits from the last decade for familiarity."
Recently, the station was able to carry all games of both the Boys and Girls Sweet 16 for the first time since going to a 24-hour operation. Previously, evening contests had to be moved to sister station K105 which often could conflict with UK Basketball.  Station management says that this gives WMTL a much greater versatility in adding programming options as needed.
"Going forward, we'll be looking to add some specialty programming on Saturdays and our Sunday morning lineup continues when we kick off Sunday mornings with the Gaither Homecoming Hour at 7," Mark said.
Kentucky Focus airs early on Saturday mornings and on Sundays after the Gaither program, a series of religious and secular programs including local churches, Bluegrass Express hosted by James Coates and the Renfro Valley Gatherin'.
Leitchfield's Country Station 103.9 The Moose has weather forecasts at least twice each hour along with Fox News, Kentucky News Network and Fox Sports Radio. The Moose's community calendar product  called "Lodge Notes" run hourly.
While the station has been up and running for a couple of weeks, the company has been making small adjustments and fine tuning the programming and transmission. Because AM radio is monaural and FM radio is in stereo, the station will be enhancing the audio delivery system to upgrade to stereo in the coming days, which will require perhaps a few hours of down time.
WMTL can be heard at 870AM, via live audio stream at www.k105.com, by using the WMTL iPhone App, Android App and now at 103.9FM.
By Kayla Bagshaw, Digital Director