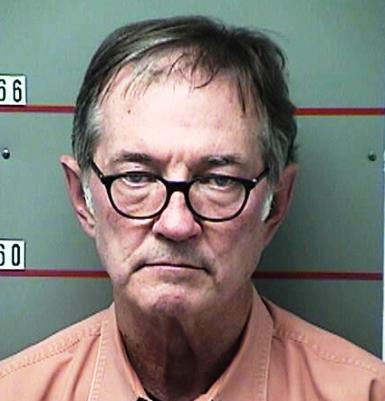 For the third time in less than 18 months, a Grayson County High School teacher has been arrested on child sex-related charges.
According to Kentucky State Police, 62-year-old GCHS word processing teacher Roger Williams, of Clarkson, was arrested by KSP on Wednesday evening. Williams was charged with two counts of first-degree sexual abuse and possessing/viewing matter portraying a sexual performance by a minor.
The applicable Kentucky Revised Statute says first-degree sexual abuse is:
"Being a person in a position of authority or position of special trust, he or she, regardless of his or her age, subjects a minor who is less than eighteen (18) years old, with whom he or she comes into contact as a result of that position, to sexual contact or engages in masturbation in the presence of the minor and knows or has reason to know the minor is present, or engages in masturbation while using the Internet, telephone, or other electronic communication device while communicating with a minor who the person knows is less than sixteen (16) years old, and the minor can see or hear the person masturbate."
First-degree sexual abuse is a class D felony (punishable by one to five years in prison), unless the victim is less than 12-years-old, in which case the offense is a class C felony (five to 10 years in prison). The possessing/viewing matter portraying a sexual performance by a minor is a class D felony.
Williams, who is the brother of Grayson County Commonwealth Attorney David Williams, is currently lodged in the Grayson County Detention Center.
Williams' arrest comes on the heels of GCHS teacher Jonathan Jones' March 12 arrest on a third-degree sodomy charge. In November 2016, GCHS teacher and head baseball coach Gavin Logsdon was arrested and charged with third-degree rape.
Logsdon's trial was recently declared a mistrial because a jury could not be seated. His trial will now either take place in another county, or lawyers will again attempt to seat a jury of 12 (plus one alternate) in a Grayson County courtroom.
(UPDATE: Wednesday @11:02 p.m. — Kentucky State Police Post 4 Public Affairs Officer Scotty Sharp said in a press release that KSP arrested Williams "after allegations of abuse of a minor were discovered." At approximately 11:30 Wednesday morning, detectives with state police were notified that Williams allegedly had sexual contact with a juvenile victim. Williams was arrested at 5:13 Wednesday evening.)
By Ken Howlett, News Director
Contact Ken at ken@k105.com or 270-259-6000