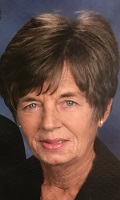 Barbara "Bobbi" Simpson Layman, age 72, of Leitchfield, KY, passed away Tuesday, (July 10, 2018) at Norton Brownsboro Hospital in Louisville, KY.
She was born on December 13, 1945 in Leitchfield, KY, daughter of the late Urey and Reba Hudson Simpson.
She was a Registered Nurse who enjoyed fishing, spending time with her grandchildren and was a University of Kentucky sports fanatic. She was a 1963 graduate of Leitchfield High School and attended Cross Point Church.
She is survived by her husband of 52 years, Ronny Layman of Leitchfield; children, Marty Layman of Lexington, Ky, Jennifer Layman Lang (Mike) of Alvaton, KY Jaime Layman Bratcher (Lee) and Ron Layman (Angela) both of Clarkson; four grandchildren, Michael and Jacob Lang & Asa and Jack Bratcher; sisters, Pat Foster and Mary Ann Roberts and a special aunt, Beulah Simpson.
She was preceded in death by her parents.
Funeral services will be at 12:00 p.m. (Noon) Saturday, (July 14, 2018) at Cross Point Church in Leitchfield. Bro. Jerry Dunaway will be officiating. Burial will be in the Steven Layman Cemetery.
Visitation will be at the Dermitt Funeral Home from 3:00 p.m. to 8:00 p.m. on Friday and will move to Cross Point Church on Saturday from 9:00 a.m. until time of services.
Expressions of sympathy can be made in the form of donations to Hosparus of Kentucky or the National Stroke Association.
Online condolences can be made in the guestbook on our website at www.dermittfuneralhome.com.