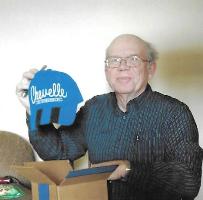 Larry Michael Hatfield passed away on July 9, 2018 at Hardin Memorial Hospital after a lengthy battle with cancer. He professed his faith in the Lord on February 22, 2018. He was born May 6, 1953 in Clarkson to his parents Delbert and Irene (Cain) Hatfield.
He was an employee of United Postal Service for 37 years and retired in April 2009. He was a farmer and co-owner of Hatfield Farms. Larry graduated from Clarkson High School in 1971. He was an avid drag racing fan and classic cars.
He is survived by one brother, Robert (Bobby Joe) Hatfield and his wife Carolyn. Three nephews Robbie Hatfield, his wife Jerrianne, Ritchie Hatfield, Ryan Hatfield, his wife Kendra. Three great nephews, Lucas Hatfield, Garrett Hatfield and John Robert Hatfield. Also, survived by several cousins and many friends.
Visitation is Saturday, July 14, 2018 from 10:00 AM to 1:30 PM CDT at Rogers-Oller Funeral Home..
Graveside service will be Saturday, July 14, 2018 at 2:00 PM CDT at Little Flock Missionary Baptist Church Cemetery. Bro. Terry Priddy and Bro. Dale Duvall officiating. Burial in Church Cemetery.
He was preceded in death by her parents Delbert and Irene Hatfield.