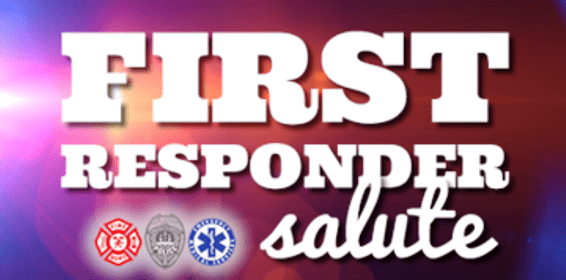 K105 is pleased to partner with State Farm and local agents Dale Woosley and Carter Harrell to present the First Responder of the Week award in honor of people devoted to selflessly helping their fellow citizens.
Whether the first responder is a firefighter, EMS worker, police officer, ER nurse or ER doctor, these people are committed to helping others, in what many times is one of the most difficult, trying times in their lives.
"I think the real motivation for recognizing first responders is their dedication, and the big heart they must have for people in order to risk their lives to help others," Woosley said. "The servant-heart they possess makes the job more than a paycheck."
Many times the bravery and unwavering loyalty to their task that first responders display on a daily basis goes unnoticed by the public, primarily because the public is not there when a police officer enters a home to save someone from being assaulted; the public is not there when a firefighter extracts a victim from a terrible car accident; the public is not there when EMS workers, ER nurses and doctors are saving the life of someone stricken with a life-threatening ailment.
"They play a role that is often overlooked," Harrell said about his motivation for honoring first responders. "They make a time sacrifice that others do not, and often they are taken for granted."
The average citizen would like to think that they would respond with action and heroism if put in a position to save someone else from great peril, but for first responders, bravery, and quick and correct action in the face of danger is a way of life.
"What comes to my mind; first responders really personify do unto others as you would have then do unto you," Woosley said. First responders have the mindset; "If it was them in that fire or car wreck …" they would want and expect someone to help.
Of course, in some instances, first responders will put at risk their own safety to secure the life of someone else. Most times, someone they don't know.
"Many times first responders are putting their well-being and care of another before their own safety," Harrell said, "and someone that is willing to give of themselves to save the lives of others" is something worth recognizing.
The initial K105 State Farm First Responder of the Week, Bryan Hammons, personifies the servant-heart Woosley alluded to, and possesses the selfless attitude that Harrell holds in high regard.
As a long-time Grayson County Sheriff's Deputy (now retired), active Leitchfield Volunteer Fire Department firefighter, Grayson County EMT, and Grayson County Middle School Resource Officer (a position he volunteered for), as well as the several times he's volunteered to help with hurricane relief efforts on the Gulf Coast, Hammons perfectly embodies what it means to give of oneself to the betterment of others, and without an expectation of recognition or praise.
And he does it all with a smile on his face, and a heart full of joy.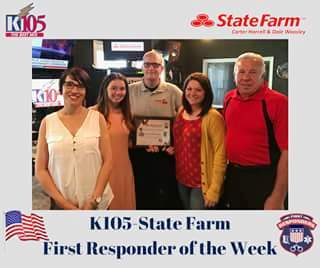 By Ken Howlett, News Director
Contact Ken at ken@k105.com or 270-259-6000