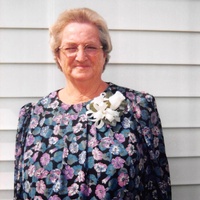 Goldie T. Hack, age 85, of Leitchfield, KY, passed away Saturday, (August 11, 2018) at the Twin Lakes Regional Medical Center.
She was born on January 28, 1933 in Caneyville, KY, the daughter of the late Scott and Lola Elder Mudd.
She was a housewife and a seamstress who enjoyed yardwork and planting flowers, and was a member of the Pleasant Union Baptist Church (Wilson).
She is survived by two sons, Johnny Hack (Cathy) of Leitchfield and Tommy Hack (Sue) of Rossville, IL; two daughters, Pauline Hack (Roscoe) and Tami Caldwell (Kevin) both of Leitchfield; a daughter-in-law, Nancy Hack of Leitchfield; 11 grandchildren; eight great-grandchildren, two brothers, Willard Mudd (Mildred) of Caneyville, KY and Richard Mudd (Theresa) of Frankfort, IN; and a sister-in-law, Patsy Brown of Caneyville. Several nieces and nephews also survive.
Other than her parents, she was preceded in death by her husband, Riley William Hack; a son, Riley William Hack Jr; four brothers, Lawton, Gilbert, Phillip & Herman; and four sisters, Aline, Dorothy, Ollie & Dollie.
Funeral services will be at 11:00 a.m. Wednesday, (August 15, 2018) at the Dermitt Funeral Home in Leitchfield. Bro. Earl Day will be officiating. Burial will be in the Pleasant Union (Wilson) Cemetery.
Visitation will be at the Dermitt Funeral Home from 3:00 p.m. to 8:00 p.m. on Tuesday and from 9:00 a.m. Wednesday until time of services.