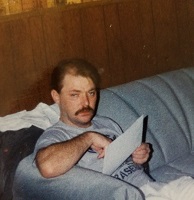 Harold Dean Crowder, 59, of Bowling Green passed away Nov. 21, 2018 in Bowling Green.
The Edmonson County was disabled HVAC technician. He was a son of Charles F. Crowder of Brownsville, who survives, and the late Gladys Carol "Carolyn" Hayse Crowder. He was preceded in death by a sister, Lisa Gaye Crowder.
Memorial services will be held at 5:00 PM Wednesday at Vincent Church. Visitation will begin at 9:00 AM Wednesday at the church. Gravil Funeral Home is in charge of arrangements.
Surviving are his wife, Agnes A. "Aggie" Wilson Crowder; two daughters, Annie Snow Crowder of Smiths Grove and Krista Vincent of Rocky Hill; a sister, Betty Jo Davis (Steve) of Lindseyville; two brothers, Lee Crowder (Lynda) of Rocky Hill and Darren Crowder (Ashley) of Brownsville; and four grandchildren, Jaylee Vincent, Jocelyn Vincent, Jace McPhearson and Andrew McPhearson.