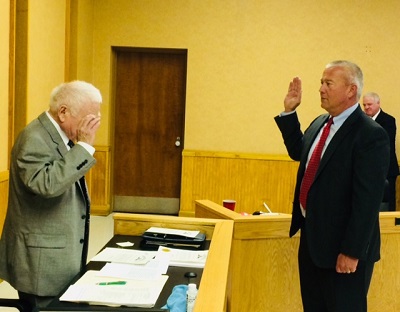 On Tuesday afternoon, county officials were sworn-in at the Old Judicial Building on East White Oak Street, including six newly-elected Magistrates, a new County Attorney, Commonwealth Attorney, and County Clerk.
The enthusiastic crowd, full of officials' family members and friends, overflowed into the hallway leading to the meeting room, giving the room a festive feel.
Some officials requested that 92-year-old Judge Kenneth H. Goff conduct their swearing-in ceremony, something the judge did … without reading the oath but reciting it from memory.
Below are photographs of officials being sworn-in:
(Headline photo: Judge-Executive Kevin Henderson taking the oath of office)

By Ken Howlett, News Director
Contact Ken at ken@k105.com or 270-259-6000