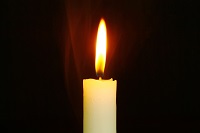 Coy Franklin Lay, age 82, of Leitchfield, KY, passed away Saturday, (January 5, 2019) at Twin Lakes Regional Medical Center in Leitchfield, KY.
He was born on January 1, 1937 in Clinton, AR, the son of the late Ninuel Blevins Lay and Helen Newman Lay.
He retired after 30 years employment from Vermont American. He was a veteran of the U.S. Army and of the Baptist faith. Coy enjoyed fishing, riding his four-wheeler, tinkering in his garage and was a mechanic. He also enjoyed spending time with his grandchildren and great-grandchildren.
He is survived by one son, Bobby Lay (Gail) of Big Clifty, KY, three daughters, Kathy Hart (Mike) and Loretta Blair (Kenny) both of Leitchfield and Sandy Frank (Ron Jr.) of Big Clifty; seven grandchildren, Jennifer Blair, Adam Hart, Chris Hart, Dana Finn Blair, Kayla Blair, Jacob Blair and Channa Lay; eight great-grandchildren, Jesse Stevenson, Isaac Hart, Elijah Hart, Gracie Hart, Noah Finn, Raylon Finn, Easton Finn and Ayden Hart; two brothers, Ninuel Lay of Tenaha, TX and Wayne Lay of Star City, AR; two sisters, Floy Ann Pettit, of Yucca Valley, CA, and Collene Holleman of Rison, AR; several step-grandchildren and step great-grandchildren; and several nieces and nephews.
Other than his parents, he was preceded in death by his wife, Martha Duvall Lay, brothers, Earnest and Troy Lay and his sisters, Loy Walsh, Lois Clark, and Mary Rocca.
Funeral services will be at 2:00 p.m. Tuesday, (January 8, 2019) at the Dermitt Funeral Home in Leitchfield. Burial will be in the Williams Cemetery.
Visitation will be at the Dermitt Funeral Home from 4:00 p.m. to 8:00 p.m. on Monday and from 9:00 a.m. Tuesday until time of services.