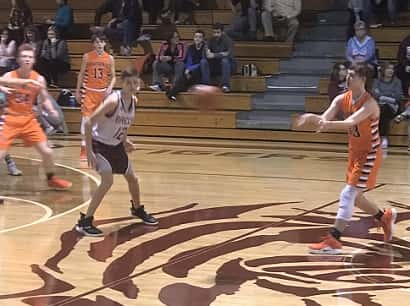 The middle school Cougar basketball teams picked up two wins Monday evening at Breckinridge County, but more importantly, both teams secured top seeds in the upcoming GRVC Tournament, scheduled to be played at McLean County beginning the last week of January.
The seventh-grade Cougars got a double-double performance from Tayden Logsdon as they beat the Tigers 45-34. The eighth-graders led from start to finish on their way to a 37-27 win.
SEVENTH-GRADE GAME
Breck jumped out to an early 5-1 lead, but the Cougars responded by outscoring the Tigers 18-4 the rest of the period to lead by 10 points, 19-9 heading into the second period. The Cougars led by as many as 15 points in the second period before the Tigers were able to cut it back again to 10 points, 28-18 at the half.
An 8-2 run by Breck opening the third quarter closed the gap to four points, 30-26 with 1:33 left in the period, but the Cougars led by six, 34-28 heading into the final period of play.
The Cougars still led by six points, 37-31 at the 3:07 mark when they closed out the game on an 8-3 run to win going away.
Hayden Brockmine led the Tigers with 18 points, while Dalton Barger scored 11 points.
Logsdon led all scorers with 28 points and he also led the team with 13 rebounds. Isaiah Poteet and Landon Haycraft both finished with six points, while Deveron Kirk had three and Mason Cariel added two to complete the scoring.
EIGHTH-GRADE GAME
The Cougars scored the first seven points of this game and were never headed afterward. They led 7-4 heading into the second period.
Grayson County opened the second period with  14-3 run to lead by 14 points, 21-7 with 1:15 left in the half, before the Tigers scored the final six points to trail 21-13 at the break.
The Tigers were able to shave a point off their deficit in the third quarter, and then closed to within six points of the lead, 31-25 with 3:05 left to play. Grayson County then put the game away with six unanswered points to lead by 12, 37-25 with 30 seconds left to play.
Nolan Hornbeck led the Cougars with 10 points, while Dillon Horn had nine. Brayden Childress scored six points, while three players, Brayden Renfrow, Lucas Pierce and Tayden Logsdon all had four points to complete the scoring.
By Don Brown, Local Sports
Reach Don at donbrown@k105.com