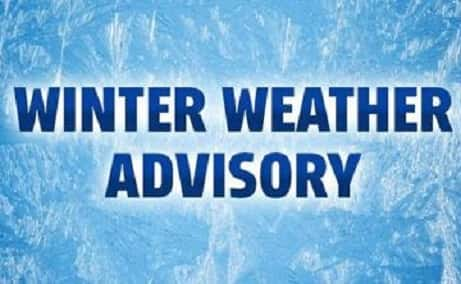 Grayson and surrounding counties are under a Winter Weather Advisory beginning at 9:00 Friday night until Saturday morning at 8:00.
The National Weather Service says snow accumulations of one to two inches are expected in the area. A light glaze of ice will also be possible, particularly on Saturday morning, due to the possibility of freezing rain. The weather service says to plan for snow covered roads and limited visibility.
The snow accumulation is expected to begin Friday night and into Saturday morning before the precipitation could turn to freezing rain. The precipitation will then transition to rain later Saturday morning and into the afternoon.
The impending weather has pushed-up the start of Friday night's Grayson County High School basketball double-header at Butler County. The games now begin at 5:30. K105's coverage of the contests begins with the Locker Room Show with Sam Gormley beginning at 5:10.
By Ken Howlett, News Director
Contact Ken at ken@k105.com or 270-259-6000