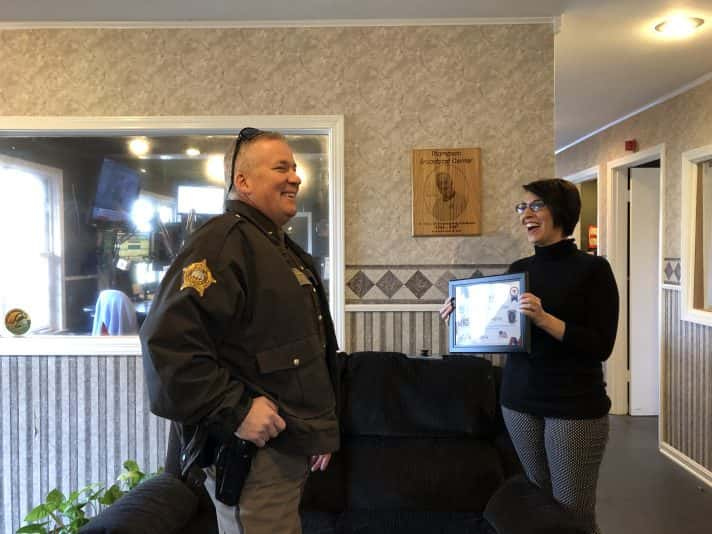 (Leitchfield, KY) – Around the age of 5 or 6-years-old, he would time himself rushing to his friends house – all while making a siren sound – as he practiced his first responding skills.  He knew very early in life that he would be a police officer.  Grayson County Sheriff Norman Chaffins said his life veered a few times from the path but ultimately in 1994 he graduated from the Kentucky State Police Academy.
After high school graduation, he enlisted and served in the United States Army, and said he was in college and serving at Red Lobster before making the move to the KSP academy.  He retired from the Kentucky State Police working in multiple capacities during his tenor: patrol officer, detective, public affairs officer, and school resource officer.  Trooper Chaffins was well known for his involvement with the DARE Program he presented to all 5th grade classes during his career as a trooper.
In 2014, Chaffins was elected as Grayson County Sheriff, and in 2018 ran unopposed.  He said this year, due to an injured employee not capable, he helped collect property taxes – one of the responsibilities of a sheriff's department – and touted how much he enjoyed the interaction with the general public.
He's looking forward to the next four years, citing he works with "the hardest working deputies"  he has ever been around.  He complimented all the first responding agencies in Grayson Co. saying they were great to work with, and he's excited about the changes he and his team envision for the sheriff's office in the near future.  He ended the interview stating  he would continue to seek serving as sheriff as long as he thought he could progress the office.
Congratulations to the K105-Carter Harrell & Dale Woosley State Farm First Responder of the Week: Grayson County Sheriff Norman Chaffins