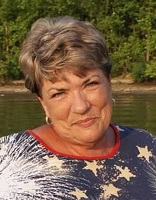 Bonnie Gayle Fentress, 69, of Locust Hill, passed away Thursday, Feb. 7 at Breckinridge Memorial Hospital.
She was born in locust Hill, KY on February 2, 1950, the daughter of the late Louie H. and Anita Frank Carman. Bonie Gayle was a member of Locust Hill United Methodist Church, United Methodist Women and the Soul Sisters. She retired from the Breckinridge County Board of Education after many years as a clerk at Breckinridge County High School. Her family meant the world to her – she attended all events her sons were involved with during their teenage and young adult years. She continued this with her grandchildren who she adored. Bonnie Gayle and Darrell enjoyed watching and attending UK basketball games. She loved flowers and always had a beautiful garden. Bonnie Gayle was a very funny, loving and special lady who had a huge circle of friends who will miss her beautiful smile.
In addition to her parents, she was preceded in death by her infant daughter Melissa Jo.
She is survived by her husband, Darrell Fentress, two sons, Darren and Brent Fentress, her brother, Gary Carman, and five grandchildren.
Funeral services will be Sunday, Feb. 10 at 1:00 at Trent-Dowell Funeral Home. Burial will be in Harned Cemetery.
Visitation is Saturday, Feb. 9 at 3 until 8 and Sunday at 9 at the funeral home.
Contributions may be made Locust Hill United Methodist Church or Breckinridge Hospital Foundation Board.