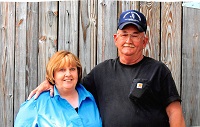 Lewis Embry, age 68 of Caneyville passed away Thursday, March 7, 2019 at Twin Lakes Regional Medical Center in Leitchfield.  He was born December 5, 1950 in Ready, Kentucky the son of the late Roosevelt and Edna (Woosley) Embry.
He is survived by his wife, Mary Sue (Probus) Embry, two children, Kathy Renee Embry (Coy Smith) and Barry Lewis Embry (Jennifer), three grandchildren, Matthew, Darren and Dakota Embry, four great-grandchildren, Riley, Reagan, Bo and Brooklynn Embry, two brothers, Wendell Embry (Jenny) and Floyd Embry (Lila), and one sister, Reva Cummings.
Other than his parents he was preceded in death by two brothers, J.C., and Frankie Embry.
Funeral services will be held at 11:00 a.m., Monday, March 11, 2019 at Caneyville Memorial Chapel with Bro. Darren Cummings and Bro. Steve Mahurin officiating.  Burial will be in Wilson Home Cemetery.  Visitation will be held from 4:00 p.m. until 8:00 p.m. Sunday and from 9:00 a.m. until service time Monday at the funeral home.
Caneyville Memorial Chapel is both honored and privileged to be entrusted with the care of Mr. Embry.  Share your message of condolence with the family of Lewis Embry at www.caneyvillememorial.com.