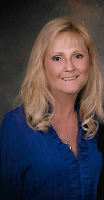 Linda (Vaughn) Holeman, age 67 of Leitchfield, KY passed away Tuesday, March 12, 2019 at Norton Suburban Hospital in Louisville. She was born in Union County KY on May 25, 1951 daughter of Gilbert C. and Dixie (Yates) Vaughn. She was married to Larry Holeman and the mother of two children.
Linda was a Funeral Director and member of Leitchfield Methodist Church.
She is survived by her loving husband; Larry Holeman, one son; Jim Holeman and one daughter; Lauren Holeman.
Also surviving is her mother; Dixie Vaughn two sisters; Donna Forsythe (Mike) and Faith Carr (Sam).
Visitation is
Wednesday,
March 13, 2019 from
3:00 PM to 8:00 PM at Watkins-Oller Funeral Home, and
Friday,
March 15, 2019 from
10:00 AM to 1:00 PM at Whitsell Funeral Home.
Funeral Services will be
Thursday,
March 14, 2019, at
10:00 AM at  Leitchfield Methodist Church. A graveside service will be held
Friday,
March 15, 2019, at
1:00 PM at Pythian Ridge Cemetery in Sturgis.