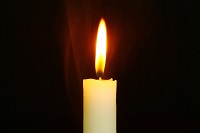 Phillip William Lee, age 44, of Millwood, KY, passed away Wednesday, (May 8, 2019) at Seneca Place in Louisville, KY.
He was born on July 14, 1974 in Bullitt Co., KY, the son of the late Elmer E and Robena Cox Lee.
He was a disabled construction worker, who enjoyed fishing and horse racing and especially was a UK fan.
He is survived by his wife, Chelly Lee, three brothers, Charles Randall "Randy" Lee of Leitchfield, Billy Gene (Barbara) and Charles E Lee (Brenda) both of Millwood, his nieces and nephews, Kelsie, Katelyn, Bailey, Gracie, Jason, Jonathon, Randall and Stacey, an aunt, Lavonne Odle and a close friend, Brandy.
He was preceded in death by his parents.
Funeral services will be at 2:00 p.m. Saturday, (May 11, 2019) at the Dermitt Funeral Home in Leitchfield. Bro. Jerry Poteet will be officiating. Burial will be in the Little Clifty Cemetery.
Visitation will be at the Dermitt Funeral Home from 10:00 a.m. Saturday until time of services.
Expressions of sympathy may take the form of donations to the funeral home to help with expenses.
Online condolences can be made in the guestbook on our website at www.dermittfuneralhome.com.