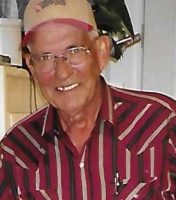 Samuel T. Clark, age 79, of Leitchfield, KY passed away Wednesday, May 8, 2019 at Norton Hospital in Louisville.
He was born November 3, 1939, in Grayson County, KY., son of Paul and Rosa (Milliner) Clark and was married to Sue (Smith) Clark.
Mr. Clark was retired from Brown and Williamson Tobacco Company and Lincoln Trail District Health Department. He was a member of St. Paul Catholic Church.
He loved Gardening, loved music and dancing and his favorite pastime was reading.
He is survived by one daughter; Tammy Benton (Darrin), one son; Gordon Alvey (Leisa).
Other survivors include 4 grandchildren; Brooke Benton, Sam Benton, Charlie Miller and Marcia Potts, 2 brothers; Danny Clark (Linda) and Norbert Clark (Karen), 4 sisters; Anna Jean Clark (Dale), Kathy Hibbard (Jim), Christina Taylor (Shirley) and Martina Gawarecki. One sister-in-law, Linda Clark also survives.
Visitation
Friday
May 10, 2019
4:00 PM to 8:00 PM
Visitation
Saturday
May 11, 2019
9:00 AM to 10:30 AM
Rogers-Oller Funeral Home
Funeral Mass
Saturday
May 11, 2019
11:00 AM
St. Paul Catholic Church
Burial in church cemetery.