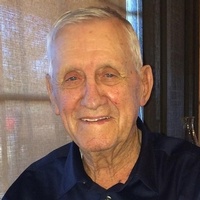 Henry Thomas Crawford, age 94, of Leitchfield, KY, passed away Thursday, (May 09, 2019) at his home in Leitchfield.
He was born on September 12, 1924 in Leitchfield, KY, the son of the late Clive V. and Brownie Harris Crawford.
A Veteran of the United States Army, Henry fought in World War II, receiving a Purple Heart and three Bronze Stars in addition to other medals and ribbons. When he returned home, he worked as a self-employed truck driver and enjoyed working, mowing the grass, and attending church activities. He was a member of the Lilac Road Church of Christ and the Grayson County VFW # 12175.
He is survived by his children, Sherry Jeffries of Louisville, KY, Bill Crawford (Kathy) of Leitchfield, Gail Stein (Jim) of New Albany, IN, and Bob Crawford (Terri) of Leitchfield; seven grandchildren, Tracey Jeffries Adams (Jeff), Troy Jeffries, Corey Stein, Drew Stein (Katie), Rachel Clemons (Bryant), Claire Crawford and Lauren Stauffer (Austin); and four great-grandchildren, Hunter Adams, Helana Jeffries, and Samantha & Alexandria Stein.
Other than his parents, he was preceded in death by his wife of 67 years, Betty Jo Crawford; two sisters Henrietta Whitaker and Mildred Marie Crawford; and two brothers, Aubrey and Charles Crawford.
Funeral services will be at 1:00 p.m. Monday, (May 13, 2019) at the Dermitt Funeral Home in Leitchfield. Bro. Bill Cook and Bro. Dennis Tucker will be officiating. Burial will be in the Leitchfield Memory Gardens.
Visitation will be at the Dermitt Funeral Home from 2:00 p.m. to 8:00 p.m. on Sunday and from 9:00 a.m. Monday until time of services.