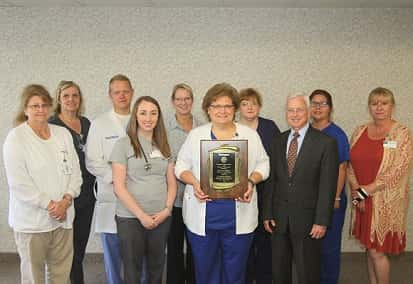 Physicians, Twin Lakes Regional Medical Center leaders, and the public gathered  on Monday to celebrate the President's Circle award, given to the Twin Lakes Regional Medical Center Wound Healing Center in recognition of being named a Center of Distinction with outstanding performance.
There were 621 Wound Centers nationally eligible for the Center of Distinction award, but only 10 facilities achieved this honor.
The TLRMC Wound Healing Center achieved outstanding clinical outcomes for twelve consecutive months, including patient satisfaction higher than 92 percent, and a minimum wound healing rate of at least 91 percent within 30 median days to heal. The center was awarded the honor by Healogics, the nation's largest provider of advanced wound care services.
"We are very fortunate to have a Wound Care Center offering advanced wound care and Hyperbaric oxygen treatments to patients in our community and surrounding areas," said Cindy Stanton, RN, Program Director, Twin Lakes Wound Care Center. "We have a great team of five providers and five staff members who work together to provide an individualized treatment plan for each of our patients."
Stanton went on to say their goal at the Wound Healing Center is to treat each patient and heal each wound as quickly as possible so the patient can achieve an improved quality of life. That is especially important in an area with high rates of diabetes.
"Up to 25 percent of all diabetics will develop a foot ulcer and 15% of those people will require an amputation," according to Trina J. Daves, RN BS LNHA and the Chief Nursing Officer at Twin Lakes Regional Medical Center. "The five year post amputation mortality rate is 50%, so we are thankful to be able to offer such a successful wound healing program and keep those numbers down in our area."
The TLRMC Wound Care Center is a member of the Healogics network of nearly 700 Wound Care Centers nationwide with proven experience treating approximately 2.5 million chronic wounds. The TLRMC Wound Healing Center offers highly specialized wound care to patients suffering from diabetic ulcers, pressure ulcers, infections and other chronic wounds which have not healed in a reasonable amount of time. Leading edge treatments at the center include negative pressure wound therapy, total contact casting, bio-engineered tissues, biosynthetic dressings and growth factor therapies. The TLRMC Wound Healing Center also offers hyperbaric oxygen therapy, which works by surrounding the patient with 100 percent oxygen to help progress the healing of the wound.
Headquartered in Jacksonville, Florida, Healogics is the nation's wound healing expert. Last year over 330,000 patients received advanced wound care through a nationwide network of nearly 700 Wound Care Centers. The Healogics team is made up of almost 3,000 employees, 4,000 affiliated physicians and a Healogics Specialty Physician practice group of nearly 300.
In addition to the company's network of outpatient Centers, Healogics partners with over 300 skilled nursing facilities to care for patients with chronic wounds, and provides inpatient consults at more than 80 partner hospitals.
As the industry leader, Healogics has the largest repository of chronic wound-specific patient data in the country. The Healogics Wound Science Initiative, an effort launched in 2017 to provide peer-reviewed research, recognizes the value and relevance of big data and advanced analytics to drive continuous, collaborative learning towards a better understanding of how to efficiently utilize healthcare resources for patients with wounds. For additional information, please visit Healogics.com.
By Twin Lakes Regional Medical Center