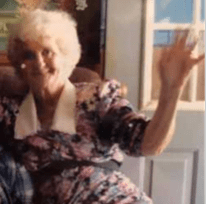 Virginia Logsdon, age 89 of Clarkson, passed away Saturday, July 6th 2019 at her residence. She was born March 6th 1930 in Grayson County, Kentucky, the daughter of Mart & Nettie Gardner Webb. She was a farmwife and a member of the Jericho Missionary Baptist Church.
She is survived by four daughters, Leva Childress (Leroy), Elizabeth Richards (Thomas), Retha Webb (Ricky), & Darlene Ward (Tony), three sons, Rev. Verles Logsdon (Judy), Scotty Logsdon (Rebecca), & Andy Logsdon, one brother, Melvin Webb (Helen), sixteen grandchildren, twenty-two great grandchildren, and five great-great grandchildren. Other than her parents, she was preceded in death by her husband, Albert Logsdon, one son, Phillip Logsdon, and Christine Meredith.
Funeral services will be held at 1:00 p.m., Wednesday (July 10) at the Jericho Missionary Baptist Church in Cub Run. Burial will be in the Jericho Church Cemetery. Visitation will be held from 3:00 p.m. – 9:00 p.m., Tuesday at the Watson & Hunt Funeral Home in Leitchfield and from 9:00 a.m. until service time Wednesday at the church.