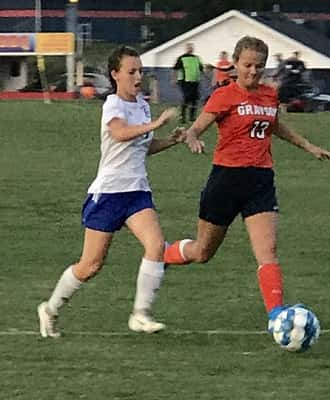 The Lady Cougar soccer team played host to the Christian County Lady Colonels Monday evening at the Cougar Soccer Field in the first scrimmage game of the new season, and the Lady Colonels took a 10-3 victory.
Sophomore midfielder Autumn Bell scored four goals for the Lady Colonels, and sophomore Emma Fleming added three to pace the Lady Colonel attack.
The Lady Cougars missed an early opportunity to score when junior forward Gillian Johnston had a shot clang off the crossbar in the 18th minute. On the counterattack, the Lady Colonels scored their first goal when Fleming slipped a shot past the Lady Cougars' senior goal keeper, Laura Vincent, for a 1-0 lead.
A minute later, the Lady Cougars tied the score when sophomore Mallorie Zurmehly took a pass from sophomore Ellie Evans in front of the net and poked it home.
Fleming scored again in the 29th minute to give the Lady Colonels the lead for good. Freshman Lexey Crossett added a goal in the 31st minute and the Lady Colonels took a 3-1 lead at the half.
Two minutes into the second half, sophomore Lillian Larkins scored for the Lady Colonels past Elizabeth Lindsey, who replaced Vincent in goal for the second half, to make it 4-1.
A minute later, the Lady Cougars got on the board to make it 4-2. The Lady Cougars were putting pressure on Lady Colonels goal keeper Fiona Knepper. ping-ponging the ball in front of the net, when Johnston headed the ball behind her and into the net.
That would be as close as the Lady Cougars would get as the Lady Colonels responded with five straight goals, four of them by Bell, to take a 9-2 lead in the 70th minute.
Evans broke through the Lady Colonels defense on a breakaway in the 72nd minute, but her shot was just high over the goal. In the 74th minute, Evans took a pass from Johnston and broke behind the Lady Colonel's defense, and this time put the shot into the net to make it 9-3.
Christian County's Abigail Dazey closed out the scoring in the 76th minute scoring a goal off a corner kick for the final 10-3 score.
The Christian County JV squad got five goals from 8th grader Alayah Lander and two more from sophomore Lindsey Ahern as they defeated the Lady Cougars 10-0.