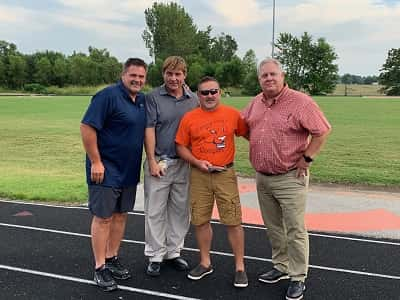 On Thursday night, five former Grayson County Football players were added to the Wall of Fame at Cougar Stadium.
The ceremony was hosted prior to the annual football "Meet the Cougars Night."
The inducted members included class of 1983 graduates Greg Apperson, Pat Harned, Chuck Johnson and Joey Wilson and class of 1984 graduate Wayne Clemons.
This was the third class to be inducted into the program's Wall of Fame. Former assistant coach Kevin Embry said that the next class will more than likely come from the 1990s.
The Cougars will open up their 46th season on August 23rd at Hancock County. You will be able to listen to every game on K105 and watch the games live on K105's Facebook and YouTube pages.
By Sam Gormley, Play-By-Play Announcer/Local Sports
Reach Sam at sam@k105.com
(Headline Photo L-R: Wayne Clemons, Greg Apperson, Chuck Johnson, Joey Wilson; Not Picture: Pat Harned)
Grayson County Cougar Football Wall of Fame induction ceremony https://t.co/Fk8rpjJ1WW

— Cougar Sports on K105 (@K105sports) August 8, 2019