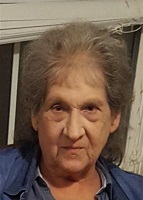 Mary Patricia "Patty" Salmon, age 77 of Madrid, KY died Thursday, August 8, 2019 at her residence.
She was born in New Hope, KY on December 5, 1941, the daughter of the late Virgil and Mary Alice Miles Clan. Patty was a homemaker whose life was devoted to her children and their families. She enjoyed being outdoors, fishing, riding 4 wheelers, adult coloring books and painting ceramics. She grew up in the Catholic faith and her home church was St. Vincent de Paul Catholic Church in New Hope.
In addition to her parents, she was preceded in death by siblings Susie Clan, Joyce Fick, Libby Vittitow, Janie Hardin, Darrell Clan and an infant brother and sister.
Patty is survived by her children: Nancy Satterly (Joe) of Madrid, KY, Bobby Bell of Mount Washington, KY, Pat Salmon (Jeanette) of Madrid, KY and Joseph Salmon (Gini) of Axtel, KY; 10 grandchildren: Patricia Huffines (Paul), Tasha Critchelow (Adam), Joe Satterly (Chelsea), Cory Bell, Casey Johnson (Dominique), Kristina Salmon, Travis Salmon (Kayla), Lance Salmon (Mary), Mark Salmon (Shannon) and Cody Salmon; 16 great grandchildren: Rhiannon, Kayleigh and Kaidyn Huffines, Aiden, Stella and Elena Critchelow, Audrina and Naomi Satterly, Trey and Mya Johnson, Malik and Mason Mitchell, Henry Salmon, Jaxson and Sierra Salmon and Kira Salmon due in September; one sister, Deloris Blair of Louisville, KY; 3 brothers, Kenny Clan (Cheryl) of New Hope, KY Jimmy Clan of Bardstown, KY and Wayne Clan of Sonora, KY
Funeral services will be held at St. Anthony Catholic Church 1654 South Highway 79  Hardinsburg, KY 40143 on Tuesday, August 13, 2019 at 10 AM. Burial will be in the church cemetery. Visitation will be held at Trent-Dowell Funeral Home on Monday, 4-8 PM and Tuesday, 8 – 9:30 AM. Prayers will be held at the funeral home on Monday at 7:30 PM.