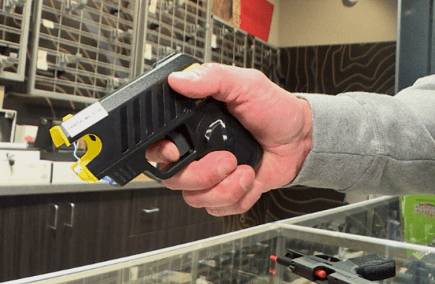 A former deputy jailer has been sentenced to four years in prison for using a taser on a suicidal inmate.
Former Fulton County Detention Center deputy jailer, 54-year-old James Eakes, was found guilting in federal court in Paducah of using a taser to punish a suicidal inmate for cursing. Federal prosecutors said Eakes' use of the taser deprived the inmate of his constitutional right to be free from cruel and unusual punishment.
"The Department of Justice does not tolerate any physical abuse of inmates, especially by a correctional officer entrusted to their care," Assistant Attorney General Eric Dreiband said. "The Civil Rights Division will continue to uphold the Constitution and obtain justice for the victims of civil rights abuses."
The evidence and testimony at the former deputy jailer's trial revealed Eakes was first called to the inmate's cell because the inmate told guards he was suicidal, according to prosecutors. As required by the jail's procedures, Eakes and two other female deputy jailers then removed all the inmate's possessions and made him strip.
Eakes left the cell and closed the door, which automatically locked, leaving the inmate in his cell with only an anti-suicide garment, prosecutors said.
After he was locked in his cell, the inmate cursed at Eakes from behind the cell door. Eakes then ordered the door unlocked, removed his Taser from his holster, opened the door, and immediately shot the inmate with the Taser.
Eakes then entered the inmate's cell and, while activating the Taser, repeatedly yelled at the inmate not to curse at him again. Despite the inmate taking no aggressive action toward Eakes, and with the inmate slumped against the cell wall, Eakes tased him two more times, prosecutors said.
Eakes faced a maximum sentence of 10 years.
By Ken Howlett, News Director
Contact Ken at ken@k105.com