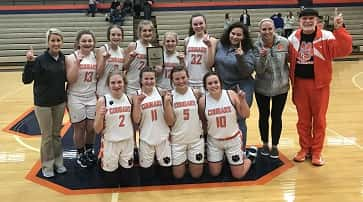 The freshman Lady Cougars won the championship of the 12th District Wednesday evening in the Cougar Den, 47-42 over Butler County.
Aryssa Riggs buried a three-pointer with 1.4 seconds left in regulation to tie the game at 39-39 and send it to the overtime period. The Lady Cougars then outscored the Lady Bears 8-3 to win the game.
Riggs led all scorers in the game with 21 points. Eighth-graders Cora McMillan and Sydney Perkins joined Riggs in double figures with 13 and 11 points respectively.
The Lady Bears used an 8-2 run at the start of the second period to take a lead they would hold throughout regulation until Riggs tied it at the end. They led by four, 14-10 at the half, and by five, 25-20 heading into the fourth quarter.
When the Lady Bears opened the fourth quarter on a 5-1 run, they held their ;largest lead of the night, nine points at 30-21 with 3:55 left to play.
Two McMillan free throws with 1:24 left cut the lead to four points, 34-30, but Maddie Jones scored for Butler with 52.5 seconds left make it a six-point game again, 36-30.
Riggs went to the line for 1-and-1 with 44.4 seconds left and hit the first, but missed the second, but McMillan grabbed the rebound and put it in to cut the lead to three points, 36-33.
Riggs scored on a lay-in with 28.5 seconds left to cut the lead to a single point, 36-35, but Jones scored again with 13.8 seconds to go to make it 38-35.
Perkins went to the line for two shots with 8.4 seconds left, missed the first but made the second to make it 38-36.
Grayson County immediately fouled and sent Stormee Funt to the line for two free throws with seven seconds left. Funt made the first, but missed the second, leaving it at a three=point lead.
Riggs rebounded the missed free throw and raced up the court, pulling up about 25 feet out and let fly with a shot that found nothing but net to knot the score at 39-39 and send it into overtime.
Perkins opened the scoring in the extra period by hitting a three to give the Lady Cougars their first lead since the first period, and they never trailed again.
Olivia Renfrow, who did not play in the Lady Bears win over Edmonson County, led Butler County with 16 points.
In addition to her 13 points, McMillan led the Lady Cougars on the glass with nine rebounds, and Riggs added seven boards.
Coray Milam rounded out the Lady Cougar scoring with two points. Briley Renfrow did not score in the game but pulled down six rebounds and dished out two assists.
By Don Brown, Local Sports
Reach Don at donbrown@k105.com