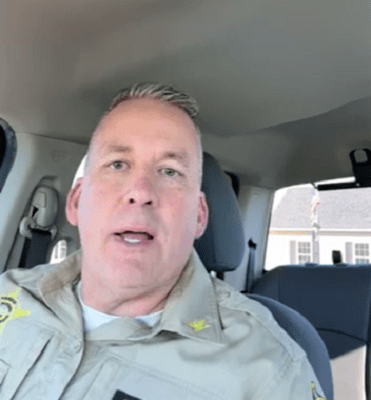 Grayson County Sheriff Norman Chaffins has released a video (seen below) on the sheriff's office Facebook page updating citizens on a new step his office is taking to help ease the effect of the coronavirus (COVID-19) pandemic on the community, as well as other information pertaining to property tax payments and scams that could strike the area.
Chaffins said the GCSO is "teaming-up with some of our local pharmacies: Midway Pharmacy in Caneyville, Clarkson and Leitchfield, and the Clarkson Drug Store" to help deliver medicine.
Those pharmacies have delivery drivers, but Chaffins said his deputies, between the hours of 8:00 a.m. and 4:00 p.m., will deliver medicine from those pharmacies as needed. He said that, unfortunately, the sheriff's office doesn't have the manpower right now to deliver on weekends, but that could possibly change as time goes by.
The sheriff's officer medicine delivery program begins Monday, April 6.
"If you normally get out to pick up your prescriptions and you want the sheriff's office to get those for you so you don't have to get out in public, then that's what we're going to do," Chaffins said.
Chaffins noted that if one would like to have their prescriptions delivered by the sheriff's office, call the pharmacy, not the sheriff's office.
The sheriff said he is waiting on a "response from Walgreens and Walmart" on whether those companies are going to participate. He said local management of those businesses are consulting with their superiors to determine if they will take part in the sheriff's office delivery program.
Property tax payment extension
The property tax payment deadline has been extended to May 15.
If one still needs to pay property taxes, Chaffins said he recommends paying online with a credit or debit card by going to gcsheriff.net and click on "Tax Information." In the drop-down menu click on "Property Taxes."
People may also mail property tax payments to the sheriff's office at 44 Public Square, Leitchfield, KY, 42754.
A third option is citizens calling the sheriff's office at 270-259-3024 and remitting payment over the phone with a credit or debit card.
COVID-19-related scams
"With this coronavirus, there are bad actors that's going to take advantage of our elderly folks, and other families as well," Chaffins warned. "They're going to be soliciting through emails, they're going to be trying to get your (personal and/or financial) information, they're going to be posing as the CDC (Centers for Disease Control and Prevention) as the WHO (World Health Organization). We're getting email from the Secret Service telling us it's already happening in other countries, it's just a matter of time before" the scam artists begin targeting Americans.
Chaffins asked that families inform their elderly family members and older friends to beware of these scams and to not give anyone any personal or financial information over the phone or via email.
"Be very careful about making donations," the sheriff said. "There are a lot of groups out there … they tell you that the money is going somewhere but it's not actually going" where the scammer says.
He said scam artists will also try to sell people medical supplies, but after paying for the supplies, the product is never received.
Welfare check
"If you know somebody who doesn't normally get checked on, please let us know, we will do a welfare check on them to make sure they have what they need during the coronavirus pandemic."
Pep talk
In wrapping up his informational video statement, Chaffins struck a positive tone as he assured people "that it's going to get better."
"The end of this coronavirus is near. I do see light at the end of the tunnel. And I want everybody to know that it's going to get better, it's going to get better soon. I feel very confident that we're going to have a summer, our kids are going to have a summer, the seniors are going to have their graduation, they're eventually going to have their prom. It may be delayed, it may be at a different date, it may be next year, who knows, but I'm sure that's going to happen. I feel very confident that it is, and that's something to look forward to. I don't think our summer is going to be shot, I really don't. I just wanted you all to know that. I want to tell you, 95 percent of our citizens, at least from the sheriff's office standpoint, are doing what they need to do. And Grayson County, as always, steps up."
By Ken Howlett, News Director
Contact Ken at ken@k105.com