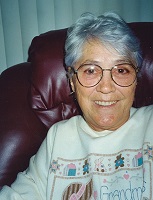 Betty Jean Meredith Rich, age 87, of Leitchfield, passed away, Sunday, July 19, 2020, at the Grayson Manor Nursing Home.
She retired from Grayson Manor Nursing Home as a Certified Medical Assistant and attended Potter's Hope Church.
She was born October 12, 1932, in Grayson County to the late Robert and Stella Vincent Meredith. She was also preceded in death by by her husband, Delbert Rich; a son, Raymond Rich and four sisters, Eva Rich, Georgia Hunt, Edna West and Jeri Huckle.
Betty is survived by four daughters, Jeanie (JR) Roof of Leitchfield, Sandra Lea (Refeard) Powell of Tennessee, Edith Marie (Jack) Rutter of Maryland and Phyllis Ann (Glenn) Patton of Campbellsville; a brother, Jim Meredith of Texas; seven grandchildren and nineteen great-grandchildren.
Funeral services will be held at 11 AM, Wednesday, July 22, 2020, at Watkins-Oller Funeral Home with Robert McKinzie officiating. Burial will follow in the McGrew Memorial Baptist Church Cemetery.
Visitation will be from 9:30 AM to 11 AM, Wednesday at the funeral home.