A woman has been killed and her husband arrested after an alcohol-related fatal ATV accident in Anneta.
Sunday morning at approximately 1:00, Grayson County Sheriff's Office Sgt. Zane Greer and Deputy Rick Mehlbauer, the Anneta Fire Department and EMS were dispatched to the 400 block of C. Scott Road on the report of a fatal ATV accident.
During the investigation, it was determined that an intoxicated 39-year-old Shawn Bryant, of Prospect, was operating a "side-by-side larger ATV" with several people on board when he crashed, killing his wife, 37-year-old Dana Bryant, of Prospect, according to Deputy Grayson County Coroner Larry Holeman. She was pronounced dead at the scene by Holeman, and was not wearing a helmet.
Shawn Bryant was given a field sobriety test and arrested and charged with second-degree manslaughter and DUI. He was lodged in the Grayson County Detention Center but is no longer listed as an inmate.
Second-degree manslaughter is a class C felony, punishable by five to 10 years in prison.
(Headline photo: Deputy Rick Mehlbauer and Sgt. Zane Greer giving Shawn Bryant a field sobriety test near the scene of the fatal accident)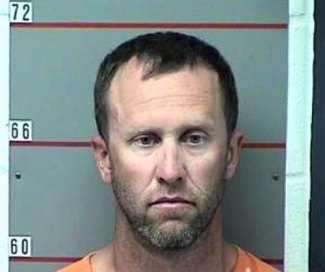 By Ken Howlett, News Director
Contact Ken at ken@k105.com