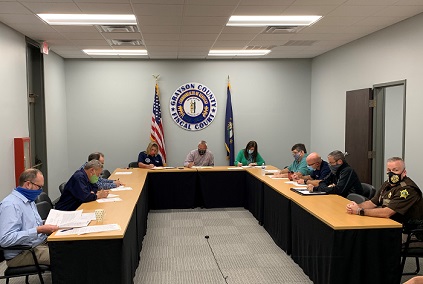 At Tuesday's Grayson County Fiscal Court meeting, Judge-Executive Kevin Henderson announced the county received nearly $900,000 in CARES Act money from the federal government.
Henderson said Grayson County was awarded $899,739, to be split among six county government entities.
"It's monies, it's not all of it, but it's monies we're out during the covid pandemic," Henderson said, explaining that the money is intended to cover losses incurred by the county from the onset of the pandemic until August 14.
Henderson said he was not positive the county will again be allowed to apply for CARES Act funds, but if allowed, the county would do so.
The judge-executive said the money will be distributed in the following amounts to the following entities:
Grayson County General Fund – $221,862
The Grayson County Detention Center — $414,339
The Grayson Count Sheriff's Office — $216,145
LGEA Fund for GC Fiscal Court — $43,425
Grayson County Clerk's Office — $2,201
Grayson County E-911 Fund — $1,767
After announcing how the money will be dispersed, Henderson again emphasized that the CARES Act funds will not cover all the financial losses of the county, saying the Grayson County Detention Center received over $414,000, but has actually lost about $1.2 million in revenue since March.
By Ken Howlett, News Director
Contact Ken at ken@k105.com