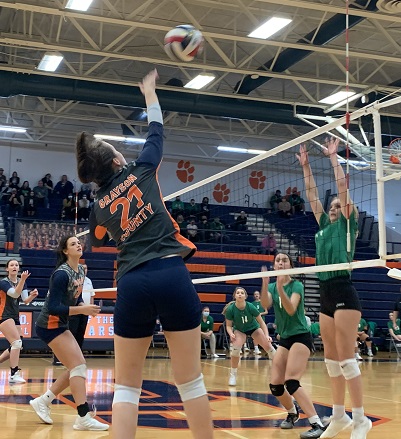 The Lady Cougar volleyball team reached the finals of the 3rd Region Volleyball Tournament Wednesday with a 3-0 (25-15, 25-22, 25-23) victory over Mead County in the semi-final round.
Senior Ella Robinson led the way with 21 kills and she added 10 digs. Senior Chloe Cox had 11 kills and three digs. Senior setter Brieanna Boll led the team with 26 assists while senior libero Bailey Richardson led with 14 digs.
The Lady Cougars never trailed in the first set after scoring the first four points of the match. Robinson put away a kill on set point to give the Lady Cougars the first-set win.
Grayson County trailed by five points, 1-6, in the early going of the second set and did not take their first lead until a Meade player was called for being in the net at 17-16.
With the score tied at 18-18, four straight Meade hitting errors gave the Lady Cougars a 22-18 lead. Leading 23-22, Richardson took the serve and a Cox kill moved it to set point before Boll dinked a ball into an empty area to make it  2-0.
The third set stayed close, with both teams trading a one- or two-point lead until a four-point surge by the Lady Waves gave them a five-point advantage at 8-13.
Grayson County still trailed by four, 15-19, when Richardson took the serve and served six straight points to give her team a 21-19 lead. Cox had a pair of kills in the run and Robinson had another.
The Lady Waves came back to retake the lead at 21-23 before a Robinson kill gave the serve back to Grayson County. Two Meade hitting errors gave the Lady Cougars a match point at 24-23 when senior Kenzie Skaggs put away a kill to end the match.
The Lady Cougars will now face the Daviess County Lady Panthers, 3-0 winners over Breckinridge County in the other semi-final, in tonight's 3rd Region Championship. That game is scheduled to begin at 7 p.m. in the Cougar Den.
By Don Brown, Local Sports
Reach Don at donbrown@k105.com