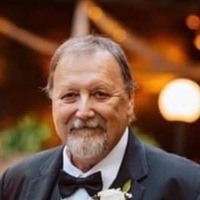 Kennie Douthitt, age 63, of Leitchfield, KY, passed away Saturday, (January 8, 2022) at UK Medical Center in Lexington, KY.
He was born on September 26, 1958 in Clarkson, KY, the son of the late Hayward and Martha Pawley Douthitt.
He was a Pharmaceutical Deliveryman, who enjoyed playing music and was a member of the Leather and Lace Band.
He is survived by his wife, Vicki Southall Douthitt, a step-son, Bradley Monahan (Samantha) of Murray KY and a step-daughter, Jeanette Wheeler (Mandy) of Louisville, two grandchildren, Daniel Wheeler and Jack Monahan, two brothers and two sisters, Allen and Terry Douthitt and Linda Brooks and Brenda Simpson.
Cremation was chosen and a memorial service with be announced at a later date.
Online condolences can be made in the guestbook on our website at www.dermittfuneralhome.com.