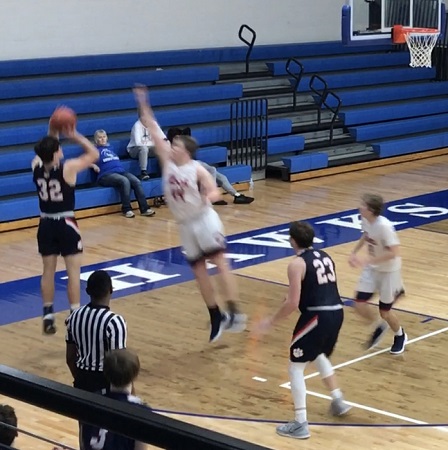 Tied 66-66 with four seconds showing on the clock, junior River Blanton had the ball at the top of the key. Blanton tried driving the lane, but found his way blocked. So, he passed the ball to Hunter Tomes, who was wide open on the left wing. Tomes' shot rippled the nets as time expired, giving the Cougars a 68-66 win over the Rockcastle County Rockets in a terrific game in the Magnolia Bank Classic, being held at Larue County High School.
The win puts the Cougars into the championship game of the eight-team tournament tonight at 6 p.m. Central time against the host Larue County Hawks.
The Rockets led by as many as five points in the first period before leading by three, 24-21 at the end of the period. The Cougars then outscored the Rockets 21-9 in the second period to grab a nine-point lead, 42-33 at the half.
The Rockets cut the lead to five points, 52-47 following a lay-up by Reese Coguer with 1:25 left in the third period, but junior Brayden Childress beat the buzzer with a three-pointer that gave the Cougars an eight-point advantage, 55-47 heading into the fourth quarter.
Back-to-back threes from Jonathan Drew Hopkins and Daniel Mullins tied the score at 64-64 with 1:09 left to play. Tomes responded with a put-back basket with 53 seconds left to give the Cougars the lead again, 66-64.
The Rockets' Matthew Chasteen then tied the game once more on a rebound basket with 37 seconds left, setting up the end.
The Cougars called a timeout with 10.5 seconds left to set up a play. Senior Keegan Sharp drove toward the basket, but lost control and the ball appeared to go off his leg out of bounds with four seconds left, but the official called the ball for Grayson County.
That set up Blanton's play and Tomes' shot at the buzzer.
WATCH: Hunter Tomes hits an 18-foot baseline jumper to give Grayson County a 68-66 win over Rockcastle County. #GoCougs pic.twitter.com/B1q0NjuZX4

— Cougar Sports on K105 (@K105sports) December 30, 2021
Rockcastle's Mullins was the game's high scorer, hitting seven threes and finishing with 26 points. Hopkins finished with 13 points.
Tomes led the Cougars on the night, recording a double-double with 20 points and 11 rebounds. Sharp hit five three-pointers and finished with 19 points. Blanton joined those two in double figures with 17 points and he added five rebounds.
Seventh-grader Jack Logsdon finished with six points and five rebounds. Childress and senior Chandler McCrady both finished with three points to complete the Cougar scoring.
By Don Brown, Local Sports
Reach Don at donbrown@k105.com