Wind-whipped flames and debris from a residential fire in Wax quickly spread to other homes and into nearby densely wooded areas, sparking dozens of fires, destroying structures and consuming countless acres.
The initial fire began at approximately 3:00 Wednesday afternoon at a home in the 800 block of Ponderosa Road, near the Ponderosa Boat Ramp. With the help of neighbors, both occupants were evacuated from the structure, which was destroyed. One person was transported by EMS to Owensboro Health Twin Lakes Medical Center with a burn on his hand.
The original fire, which caused at least one propane tank to explode and incinerated a vehicle, spread within minutes to an adjacent home, destroying that structure. The flames, propelled by 30 to 40 mile per hour winds, proceeded north to the surrounding wooded areas and undulating hillsides, igniting brush and woods fires with impunity.
Fire personnel from the Wax, Leitchfield, Clarkson, Anneta, East Grayson, and Lincoln (Edmonson Co.) Fire Departments converged on Ponderosa Road, as well as nearby Whippermill Road, Shady Lane, Hidden Trail, and Ponderosa Circle, as the blaze endangered upwards of 50 homes and blistered and blackened dozens of acres of land.
With dense smoke hanging heavy in the air, firefighters, too many to count, spread out over a three-quarter mile area battling to keep the multiple woods fires from reaching the many homes in the area. Although their efforts were rewarded with numerous residences saved from the flames, fire officials estimate that six homes were destroyed. Many — perhaps three dozen — outbuildings were also leveled.
Several vehicles were burned almost beyond recognition, including three at one burned hillside residence. Additionally, multiple boats stored at or near residences were damaged or destroyed.
Of the homes that survived the wildfire, many suffered varying amounts of damage, including melted siding, burned decks and charred deck support posts. Front, back and side yards of dozens of homes were rendered an ebony mess as the fire robbed residents of their once green grass.
As some firefighters worked to stop the spread of grass and woods fires, while others battled structure fires, more than a few residents could be seen hosing down their homes, propane tanks and anything of value that was outside and could not be moved.
Of course, many of the homeowners in the area live out of town during the "off season," and were not at the residences.
At approximately 5:00, Kentucky Division of Forestry personnel arrived with bulldozers and began dozing acreage. State and county road workers also arrived and assisted where needed.
Red Cross representatives were on hand to provide support for those impacted most heavily by the fire. And perhaps comment on how generous mankind can be in time of need, random Grayson County residents arrived with bottles of water and snacks for firefighters.
The only known injury sustained, other than the man who burned his hand, was a young man, likely a teenager, who inhaled a large amount of smoke. He was given oxygen by an Anneta firefighter and allowed to recover in a fire vehicle.
All firefighters cleared the scene by 8:00 p.m.
Clarkson Police Chief Buck Meredith and the Grayson County Sheriff's Office provided traffic control.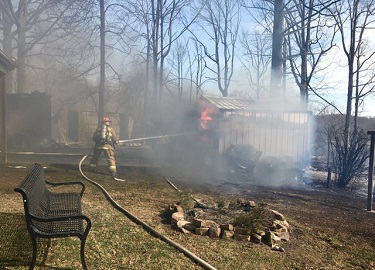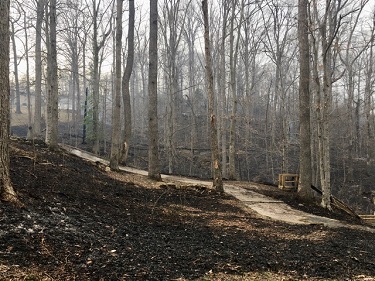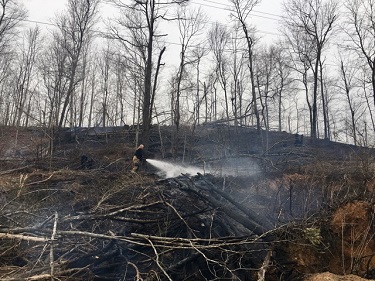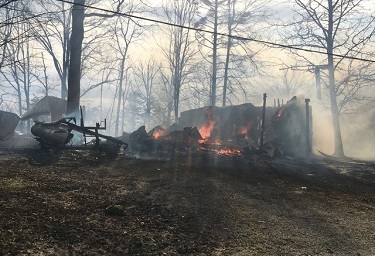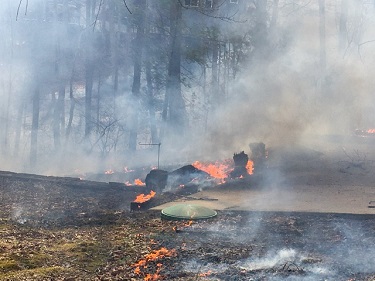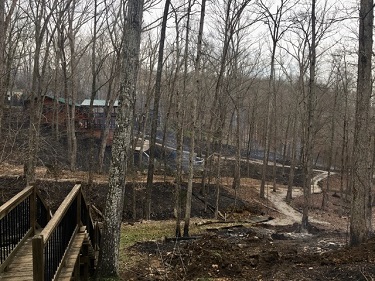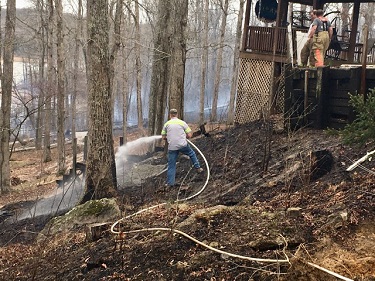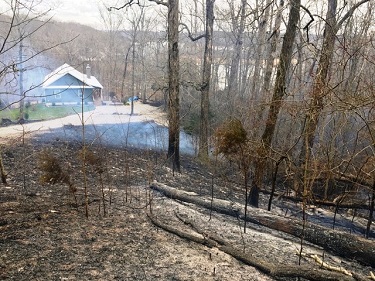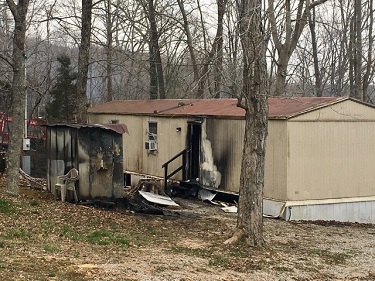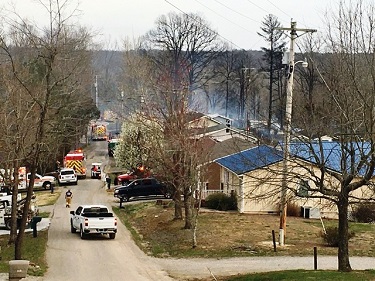 By Ken Howlett, News Director
Contact Ken at ken@k105.com