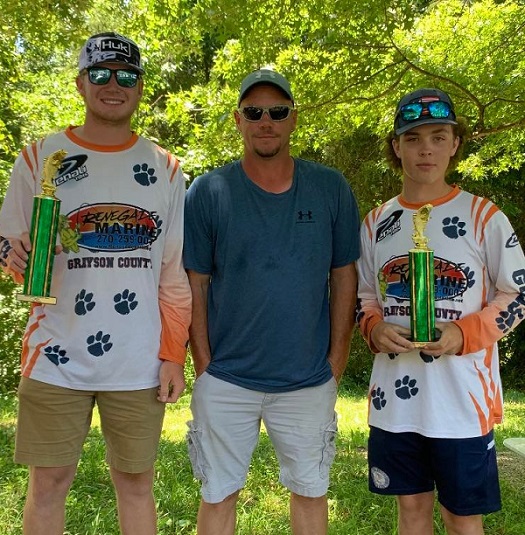 The Grayson County High School bass fishing team won their second straight team competition on Saturday at Rough River Lake.
River Blanton and Braeden Sadler finished in first place overall. Blanton helped pace the boat by pulling in the biggest fish of the year for the Cougars at just shy of 4.5 pounds.
The Cougars defeated Edmonson County overall just a week after also defeating them on Nolin Lake. 
Edmonson's boat of Jake Coy and Cooper Richardson came in second with Grayson County's Jackson Weedman and Isaiah Cooley rounding out the top three.
The GCHS bass fishing team is still in its infancy but has been on a roll as of late. In April, they won the region championship, following that up with a strong performance at the state competition. 
Blanton and Sadler will return to the water for the SAF National Championship held from June 22-25 at McFarland Park in Florence, Alabama.
By Sam Gormley, Play-By-Play Announcer/Local Sports
Reach Sam at sam@k105.com
(Photo Courtesy of GCHS Bass Fishing Team on Facebook)