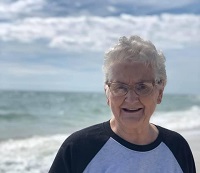 Helen Marie Clemons, age 78, of Leitchfield, KY passed away Wednesday, June 29, 2022 at her residence. She was born April 12, 1944 daughter of the late Russell and Minnie Fulkerson Franklin. She was married to the late Jimmie Franklin Clemons.
Helen was retired from Walter T. Kelley as a Sewing Machine Operator. She was a member of Little Flock Baptist Church.
She is survived by 2 children; James Larry (Sharon) Clemons and Donna Sue (Mike) Shelton.
Other survivors include 4 Grandchildren; Lucas, Rachael, Nathan and Destiny and 3 Great-grandchildren; Maverick, Braxton and Ledger.
She was preceded in death by her Parents, Husband, one sister; Mary Francis Gibson and several nieces and nephews.
VISITATION
Friday
July 1, 2022
3:00 PM to 8:00 PM
Rogers Oller Funeral Home
115 W. Main Street
Clarkson, KY 42726
FUNERAL SERVICE
Saturday
July 2, 2022
11:00 AM
Rogers Oller Funeral Home
115 W. Main Street
Clarkson, KY 42726
BURIAL
Saturday
July 2, 2022
12:15 PM
Little Flock Church Cemetery