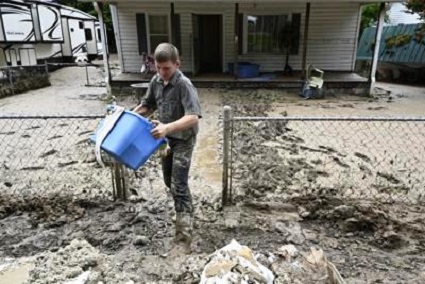 There is an additional way people can contribute to an eastern Kentucky flood relief effort organized by Grayson County residents, the Grayson County Sheriff's Office and Old Dominion Freight Line.
According to Sheriff Norman Chaffins, monetary donations will now be accepted at the sheriff's office on the Leitchfield Town Square.
"You may make the check out to "Behind the Badge," and we will make sure that the proper authorities receive 100 percent of the money," Chaffins said. "Additionally, "Behind the Badge" will match the total donation amount up to $5,000."
The sheriff said that, in addition to taking donated items to Walmart parking lot on Saturday, anyone who wishes to contribute much-needed supplies — a supply wish list can be found below — may bring those supplies to the sheriff's office prior to Saturday, August 20.
The flood relief effort was initiated by Fred and Carrie Norder, of Falls of Rough. They approached Chaffins and Fred Norder's employer, Old Dominion Freight Line, a trucking company out of Bowling Green, to assist in coordinating the endeavor.
As a result, an Old Dominion Freight Line full-length trailer will be placed in the Walmart parking lot in Leitchfield on Saturday, August 20, for residents to donate items to flood-ravaged eastern Kentucky residents.
Donations will be accepted between 9:00 a.m. and 2:00 p.m. K105 Digital Productions will broadcast live from the donation site.
Fred Norder, a retired sergeant with the Grayson County Sheriff's Office, and his family moved to Grayson County in early 2017 from Wisconsin. He began serving with the sheriff's office in May 2017 after a 25 year law enforcement career in Wisconsin.
The kindness and hospitality the family has experienced since their arrival is what compelled the Norders to organize the eastern Kentucky relief effort.
"The people of Kentucky have been so generous and compassionate to my family that we thought doing what we can for the people of eastern Kentucky during this trying time would be a great way to give back," Fred Norder said. "And I believe in the people of Grayson County; they have shown time and again that when people are in need, they are always willing to go the extra mile to help."
The list of preferred donated items comes through consultations the Norder family have had with people on the ground in eastern Kentucky, and includes:
Non-perishable food, hand can openers, bottled water, bleach wipes, cleaning supplies, feminine products, personal hygiene items (shampoo, deodorant, body wash), baby items (diapers, wipes, formula), first aid items (band aids, gauze, ibuprofen, Tylenol), batteries, flashlights, and fans.
After being filled with donations, the trailer will leave Leitchfield for the trucking company's Bowling Green hub where Old Dominion workers will palletize, package and wrap the donations, Fred Norder said. Once the donations are packaged for delivery, they will be transported to Old Dominion's Lexington hub for delivery to New Hope Christian Center in Hazard (Perry Co.) for dispersal.
K105 will keep readers updated on any items that might be added to the list of preferred donated items.
(Photo: Members of the local Mennonite community remove mud filled debris from homes following flooding at Ogden Hollar in Hindman, courtesy of the Associated Press)
By Ken Howlett, News Director
Contact Ken at ken@k105.com