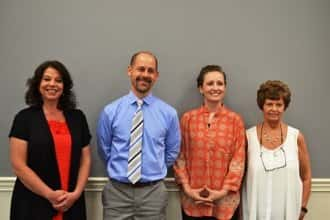 At Thursday night's Grayson County School Board meeting, board chair Carolyn Thomason announced the newly selected principal of Clarkson Elementary School.
Shannon Cates, a Grayson County High School and WKU graduate, was tabbed on Tuesday to replace Erika Devore, who left Clarkson to return home to Barren County as principal of Eastern Elementary School.
Cates, 45, has served in a key position at Clarkson as curriculum coordinator for the last six years, and has been instrumental in Clarkson reaching "Distinguished" status for the first time in school history.
In May 2016, Cates received certification from the prestigious Learning to Learn program, a Green River Regional Educational Cooperative program for aspiring principals taught at WKU.
Cates has worked in the Grayson County school system for the last 16 years. She is the third new principal named this summer, joining Gary Parker at the middle school and Alicia Brooks at Lawler Elementary.
(Headline photo — (l to r) Shannon Cates, Gary Parker, Alicia Brooks, Carolyn Thomason)