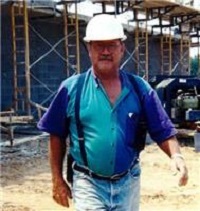 McClee VanMeter, age 74, of Anneta, KY, passed away Tuesday, (August 01, 2017) at the Hardin Memorial Hospital in Elizabethtown, KY. He was born on January 10, 1943, in Grayson County, KY, the son of Tommy and Adlee Dowell VanMeter. He was president of the VanMeter Masonry Corporation, who enjoyed attending Church, working, hunting and fishing; He was a member of the NRA and was a Deacon and member of the McGrew General Baptist Church.
He is survived by his wife, Beatris Bratcher VanMeter of Anneta; two daughters, Cynthia VanMeter of Anneta, and Melissa Fentress (Marvin Newton) of Leitchfield, one son, Jonathan VanMeter (Angela) of Anneta;  his mother, Adlee VanMeter of Anneta, six grandchildren, Cord Meredith, Valentina Riggs, Tausha Fentress, Logan, Mason and Isabella VanMeter; three great-grandchildren, Bruce Riggs and Benjamin and Annamarie Dawson; four sisters, Debbie Clemons of Pearland TX, Rachel Terry (Glenn) of Clarkson KY, Melanie Manion (Brian) of Clarkson and Miranda Troublefield of Leitchfield; three brothers, McCoy VanMeter of Leitchfield, Jeffery VanMeter (Mary Faye) of Clarkson and Marion VanMeter of Anneta and several nieces and nephews also survive.
Other than his father, he was preceded in death by a daughter, Valentina VanMeter, a grandchild, Ashton McKenzie VanMeter; a sister, Catherine Nowlin; and three brothers, Larry, William and Carry VanMeter.
Funeral services will be at 12:00 noon Saturday, (August 5, 2017) at the McGrew General Baptist Church in Anneta. Bro. Charlie Smith will be officiating. Burial will be in the McGrew Cemetery. Visitation will be at the McGrew General Baptist Church after 10:00 a.m. on Friday.