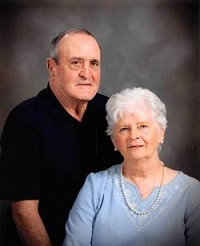 Louie Alvey, age 77, of Leitchfield, KY, passed away Sunday, (August 6, 2017) at his residence in Leitchfield.
He was born on September 1, 1939 in Grayson County, KY, the son of the late Arnold and Eunice Higdon Alvey.
He was a retired linesman/supervisor for WRECC where he worked for 47 years. He developed many deep friendships through his work that lasted through his life. He loved to play golf and was an avid reader. He also loved his Boston Terrier, Tinker.
He is survived by his wife; Delores Hughes Alvey of Leitchfield; two daughters, Karen Higdon (Artie) of Louisville, KY and Lisa Valenti (Len) of Pennsylvania; five grandchildren, Sara, Katie, Tyler, Jessica and Christina; one sister, Bonnie Miller (Carl); three brothers, Jimmy Alvey (Karen), Larry Alvey (Pat) and Dale Alvey.
Other than his parents, he was preceded in death by an infant son, Jeff Alvey; four brothers, Drew, Timmy, Donnie and Wayne Alvey; one sister, Jenny Ann.
Funeral services will be at 12:00 noon, Friday, (August 11, 2017) at St. Joseph Catholic Church in Leitchfield. Fr. Tony Bickett will be officiating. Burial will be in the St. Joseph Cemetery.
Visitation will be at the Dermitt Funeral Home from 4:00 p.m. to 8:00 p.m. on Thursday and from 9:00 a.m. Friday until time of services. Prayer service will be on Thursday at 6:00 p.m.