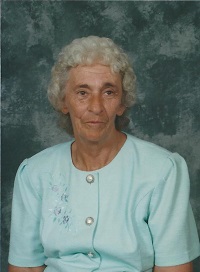 Lorene Cook Farris Richards, 73, of Bee Spring passed away at 10:19 PM Monday Aug. 7, 2017 at The Medical Center at Bowling Green.
The Edmonson County native was a homemaker, an orchard picker and sewing factory worker. She was a daughter of the late Percy Jim Cook and Mary Marie Ashley Cook and the wife of the late Rayburn "Buck" Farris. She was preceded in death by a sister, Barbara Lashley and two grandchildren, Rayburn Henry Carroll and Darrell Cooke.
Funeral services will be held at 11:00 AM Friday at Bee Spring Missionary Baptist Church, where she was a member, with burial to follow in the church cemetery. Visitation will be 4-9 PM Wednesday at Gravil Funeral Home and after 11:00 AM Thursday at the church.
Surviving are her husband Overt Richards; four daughters, Mary Cooke (Billy) of Smiths Grove, Peggy Farris (Joe Bryant) of Bee Spring, Helene Poteet (Larry) of Chalybeate and Marla Logsdon (Devin Bancroft) of Leitchfield; four sons, Dale Farris (Tresia) of Leitchfield, Billy Richards of Grand Rapids, MI, Tim Richards of Indiana and Jason Richards (Jennifer) of Chattanooga; four brothers, William Cook (Edna) of Lindseyville, Eddie Cook of Mammoth Cave, Jimmy Cook (Martha) of Sweeden and Sherman Cook (Lisa) of Brownsville; a sister, Nelsie Jones of Canton, TX; 31 grandchildren; 19 great grandchildren; and many nieces and nephews.