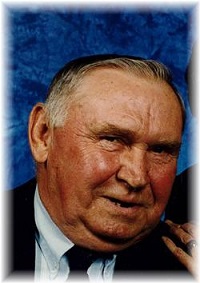 Charlie Herndon Blain, age 94, of Falls of Rough, KY, passed away Friday,
(August 11, 2017) at the Grayson Manor Nursing Home in Leitchfield, KY.
He was born on October 23, 1922, in Falls of Rough, KY, the son of the late Willie
Cardwell and Abby Hale Blain. He married his late wife, Floris Anita Bradshaw on
August 23, 1947.
He was a retired Assistant Manager from Houchen's market for 31 years; He was a
faithful democrat who enjoyed gardening and his pets; he was Kentucky Colonel
and was of the Church of Christ faith.
He is survived by three sons, Terry Blain (Sandy) and Bobby Blain (Carol) both of
Falls of Rough and Jim Blain (Teresa) of Leitchfield; two daughters, Faye Stewart
(Rick) and Nancy Blain-Brooks (Rick) both of Falls of Rough; ten grandsons, two
granddaughters; one step-grand- daughter, thirteen great-granddaughters, four great
grandsons, 3 step great granddaughters and one step great grandson and several
nieces and nephews also survives.
Other than his wife and his parents, he was preceded in death, one daughter, Cathy
Darlene Blain, a great granddaughter, Chrissy Michelle Blain, four sisters, Ida
Wilson, Myrtle Ford, Eva Diebold and Ellen Wilkerson and four brothers, Paul,
Willie, Jesse and Robert Blain.
Funeral services will be at 2:00 p.m. Monday, (August 14, 2017) at the Dermitt
Funeral Home in Leitchfield. Bro. Roger Allen will be officiating. Burial will be in
the Lahue-Bradshaw Cemetery.
Visitation will be at the Dermitt Funeral Home from 2:00 p.m. to 8:00 p.m. on
Sunday and from 9:00 a.m. Monday until time of services.
Expressions of sympathy may take the form of donations to Lahue-Bradshaw
Cemetery Fund.
Online condolences can be made in the guestbook on our website at
www.dermittfuneralhome.com.